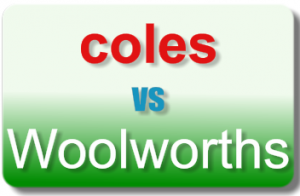 Two of the major expenses in most household budgets are groceries and petrol. With Australia's two largest grocery store chains, Coles and Woolworths both offering a credit card with a rewards program and linked petrol savings programs, we take a look at whether getting one of these cards might be a good idea.
Both cards are similar in a number of aspects namely they are not low interest cards and they both offer rewards programs with petrol discounts.
Petrol Discount Programs
Coles Group – Coles Express service stations
When you shop at Coles Group stores and spend more than $30 you will receive a docket at the checkout which contains a Fuel Discount Receipt with a discount of 4 cents per litre. If you also use your Coles Group Source MasterCard you will also be sent via mail with your monthly statement a "Source Fuel Voucher". You can earn up to four of these each month. The Source Fuel Voucher gives you an additional discount of 4 cents per litre. So when you combine the two of these discounts you can get up to 8 cents per litre discount at Shell Service Stations.

Fuel Discount Receipt (4c) + Source Fuel Voucher (4c) = 8 cents discount
Note that you only qualify for the credit card discount vouchers at Coles, Bi-Lo or Liquorland stores and not Coles Express, Coles online, Liquorland Direct or Kmart. The credit card fuel voucher must be used in conjunction with a ordinary fuel discount receipt and they do have an expiry date. The maximum amount of fuel you can get a discount on is 150 litres at a time.
Woolworths – Caltex Woolworths/Safeway Service Stations
Spend $30 or more at a Woolworths store and you will receive a 4 cents per litre discount Fuel Offer voucher on the docket at the checkout. At the checkout when you present your Everyday Rewards Card the discount voucher details are loaded onto the card. Multiple vouchers can be loaded onto the card and when you redeem them the highest value discount voucher is used first and then the next oldest voucher (one closest to expiry). Vouchers expire after 28 days. You can login online and check voucher details.
To gain an extra 4 cents discount you must spend $5 or more on goods (not tobacco or gift cards) inside the Caltex Woolworths / Caltex Safeway store.
You can link your Everyday Rewards card to the Everyday Money credit card and you will then automatically receive the fuel savings when you pay both with the epump and at the checkout. "epump" is a credit card swipe and pay system exclusive to the Woolworths Everyday Money credit card located on the petrol bowser at most Caltex Woolworths / Caltex Safeway service stations. To use it, you simply hold the Woolworths credit card near the indicated spot on the bowser and then enter your four digit PIN. You must do this first before using the bowser otherwise you will have to pay inside. Fuel purchased at Caltex service stations using the Everyday Money credit card earn 2 points for every dollar spent.
Spend more the $30 in Woolies and get the fuel voucher.
Ditch the dockets – present your Everyday Rewards card and get the voucher entered on to the card.
Spend more than $5 inside the Caltex Service station to get a further 4 cent discount.
Link your Everyday Rewards card to your Everyday Money credit card.
Use the Everyday Money credit card to pay via the epump facility on the bowser to save time by not having to queue inside the servo.
Petrol Savings In Perspective
With petrol savings from 4 cents to 8 cents from both companies, how much could you expect to save? How much petrol do you normally use?
| | | | | |
| --- | --- | --- | --- | --- |
| Litres Per Week | Savings Per Week 4 Cents | Savings Per Week 8 Cents | Savings Per Annum 4 Cents | Savings Per Annum 8 Cents |
| 10 | $0.40 | $0.80 | $20.80 | $41.60 |
| 20 | $0.80 | $1.60 | $41.60 | $83.20 |
| 30 | $1.20 | $2.40 | $62.40 | $124.80 |
| 40 | $1.60 | $3.20 | $83.20 | $166.40 |
| 50 | $2.00 | $4.00 | $104.00 | $208.00 |
| 60 | $2.40 | $4.80 | $124.80 | $249.60 |
| 70 | $2.80 | $5.60 | $145.60 | $291.20 |
| 80 | $3.20 | $6.40 | $166.40 | $332.80 |
| 90 | $3.60 | $7.20 | $187.20 | $374.40 |
| 100 | $4.00 | $8.00 | $208.00 | $416.00 |
Rewards Programs

Coles – FlyBuys
FlyBuys is the rewards program operated by the Coles Group. It is open to anybody and you can earn 2 points for every $5 spent at Coles Supermarkets, Bi-Lo Supermarkets, KMart, Target, Liquorland, Jetset and Travelworld. At Coles Express stores you can earn 1 point per $5 spent. Whilst at Budget Car Rental the rate is 2 points per $1 spent and at Best Western Australia 1 point per dollar spent.
By using the Coles Group Source MasterCard holders you can earn an additional 2 FlyBuys points per $5 spent.
For example if you spend $200 per week at a Coles supermarket and use your Coles Group Source MasterCard you would earn 160 points.
A $20 FlyBuys Gift Card can be redeemed for 2,500 points. This would take just under 16 weeks to achieve at this spending level.
2,500 points = $20 FlyBuys Gift Card
You can use the points to get Gift Cards (for use at Coles Group companies from $20) as well as a very large range of other goods for the household, entertainment and you can also donate to a number of worthwhile charities (Red Cross, Cancer Council and The Smith Family).
FlyBuys points expire after 3 years.
Woolworths – Everyday Rewards
The rewards for accumulating points with the Everyday Money credit card are shopping gift cards which can be used at Woolies and associated stores.
The points accumulated depend upon what and where you purchase with incentives for shopping at Woolies and purchasing their Select brand.
You get:
3 points for every dollar spent on the Woolies Select products. The Select brand is Woolies premium house brand.
2 points for every dollar spent on non Select Brand products at Woolies / Safeways, epump and associated stores.
1 point for every dollar of purchases on goods at places other than Woolies.
Every 4 months Woolies will send you a shopping card if you have accumulated enough points. The minimum value card they will send out is a $20 shopping card which requires 3,448 points.
If you spend $3,448 over 4 months or $198.92 per week on your card at places other than Woolies you will accumulate 3,448 points over 4 months – this will get you a $20 shopping card ($60 pa).
If you spend $198.92 per week on your card at Woolies, then you would accumulate 6,896 points over 4 months – which will gain you a $40 shopping card ($120 pa).
If you spent 20% of your weekly spend of $198.92 on Woolies Select Brand and the rest on any other brand at Woolies then you would accumulate 7,241 points – $44 ($132 pa).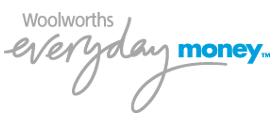 Woolworths Everyday Money Credit Card
Woolies has two "rewards programs". The first is called Everyday Rewards and is essentially a loyalty card with the major benefit that you can link the 4 cent fuel savings voucher to it (by presenting it at the checkout) and therefore don't need to carry around lots of ratty dockets. It has recently connected to the Qantas Frequent Flyer (QFF) program. You can join the Qantas Frequent Flyer program without paying the normal $82.50 joining fee if you join via Everyday Rewards. You earn QFF points on every dollar over the initial $30 purchase amount (conditions apply).
The second rewards program is attached to the Everyday Money credit card which rewards you with Shopping Cards which can be used at Woolies group stores. The points are tallied every 4 months with the shopping cards sent out via mail. The Everyday Money credit card also allows you to pay for petrol at the pump at Caltex petrol stations instead of having to go to the counter and queue up. It automatically takes into account any fuel discount previously added to your Everyday Rewards card. This is a time saver for those in a hurry although to gain a further 4 cent petrol discount you will need to go into the store and purchase $5 worth of items and pay at the counter.
In the first year the annual fee is $0 but then reverts to $49 per annum.
If you spend around $200 each week in Woolies then you could expect to earn a shopping card of about $40 every 4 months ($120 per year).
If you use about 30 litres of fuel per week and religiously get the full 8 cent discount you could potentially reduce your fuel cost per annum by about $120.
Coles offer the FlyBuys rewards program which allows you to redeem points for a very wide range of goods. Using the Coles Group Source MasterCard at the same time effectively doubles the rewards points you can accumulate. Whilst the amount of money needed to be spent to get enough points to get a $20 gift card is greater than the Woolies reward program the range of rewards if very large. You can also redeem points for contributions to charities. The credit card also has no annual fee compared to an annual fee of $49 after the first year for the Woolies credit card.
Summary
As straight out credit cards both have high rates of interest and if you do not pay back the full outstanding balance each month then a low interest credit card would probably be a better option. However if you do make full repayments each month and usually spend $200 or more per week at either of these stores then you can benefit from using one of these cards. The major reasons for having these cards are the petrol savings and the credit card reward programs.
Both rewards programs have an option to redeem points for gift cards. The amount of money you need to spend at each of the respective stores using their respective credit cards in order to get a $20 gift card is $1,724 from Woolies and $3,125 from Coles. Whilst the rewards are restricted to gift cards with Woolies, the Coles FlyBuys program has an extensive range of items for which you can redeem your points.
You need to factor in the cost of the annual credit card fee. The Coles Group Source MasterCard has no annual fee whereas the Woolworths Everyday Money card has an annual fee of $49 which is waived for the first year.
Whether these credit cards are worth getting is totally dependant on your individual situation. You need to do the sums and work out how much you normally spend at these stores and on petrol and then work out what the benefits could mean for you.
Coles Group Source MasterCard
Woolworths Everyday Money Credit Card
Interest rate on cash advances
19.74%
18.99%
Annual Interest cost on $1,000 outstanding balance
$197.40
$180.99
Interest rate on cash advances
21.99%
20.99%
Annual Fee
$0
$0 in first year $49 thereafter
Balance Transfer
0% for 6 months from date account opened
5.99% for 6 months
Interest Free Days
up to 62
(you must repay full outstanding balance each month)
(must fully repay balance transfers before being eligible for interest free days)
up to 55
Rewards Program
FlyBuys
Everyday Rewards
Petrol
Up to 8c per litre
Up to 8c per litre
Airline Rewards
via FlyBuys
Qantas Frequent Flyer
Other
Up to 3 FlyBuys cards per household
Free additional card holder
Group of Companies

Coles
Coles Express
Bi-Lo
Budget

KMart

Liquorland
Target
Jetset
Travelworld

Woolworths
Big W
Safeway
BWS
Dan Murphy's
Thomas

Dux
Warning: Financial product features can change without notice. Please confirm all details with the product provider before taking any action.